Thank you for your submission. I'll be in touch!
From the Chicago area and traveling 70 countries in 7 continents, Cynthia Wong is passionate about creating inspired events to help people design their own authentic dream life. She's ran island yoga adventure retreats across 7 countries and is ecstatic to repeat this retreat as it was such an epic hit in 2022. AND it was the very first yoga retreat on a liveaboard boat ever in Maldives!
Cynthia's taught across nearly 20 countries for over 3000+ students, of which 200 were outdoors and allowed her to integrate the magic of nature. She has over 500 hours of yoga teacher certifications in Bali in Vinyasa Yoga, Standup Paddleboard Yoga, Pre & Post Natal Vinyasa Yoga, Restorative Yoga, and has further delved into women's yoga, tantra yoga, shamanic astrology, theta healing and more.
She also organizes corporate and university wellness sessions, inspired group travel coordination worldwide, and most recently, coaching-consulting yoga teachers and wellness facilitators to design and fill their own dream destination retreats.
Overall, she loves helping people find a better balance of effort and ease in their life. She's driven by a desire to discover what magic happens when we live with wild abandon, give without expectation, and love without fear… so that we can all Live in Adventure any day!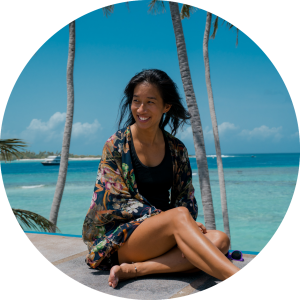 What People Say from Maldives 2022:
"My favorite part was just getting onto a boat with an amazing group of people exploring Maldives... And snorkeling with the sharks! Something I never thought would be available toe me because I don't scuba dive. It was so wonderful swimming with them and they were so friendly and kind. It was a special experience!"
"...This is my second retreat with Cynthia (and coming back for a third) is that she makes everyone feel so welcome. She's so engaging and makes sure everyone is always included.... Something I've learned that I forgot during the pandemic and will take home is to push myself out of my comfort zone. Be open to new experience and new things!"
"The best part always with Cynthia is that ...it's people first, and then not just a wellness experience or retreat. It's more like a one-time life experience that I don't want to miss because of the people that she keeps attracting into her life. These are the connections you take further into your life forever. ... What will I take away? All the beautiful memories with sharks, manta, sting rays, dolphins. And the laughs, giggles, the connections. And the incredible views we woke up to, the sunsets. Magical! I think we saw a 5-color beautiful sunset on the roof of the boat and I just stopped my yoga practice."
"The part that got me really excited was seeing the wildlife under the water! It's a perspective that's not easy to find, even when you to places famous for it like the Great Barrier Reef - I've seen more diversity and more amazing sea life than anywhere else! Made me feel really alive. ...This is my third retreat with Cynthia so I knew it would be amazing but I had no idea what was in store for us. It's crazy, if she advertises all of the amazing experiences we had, people will be lining up to come to her retreats!"
Sneak Peek from 2022 & our Boat!