Design Dreamy Destination Retreats!
Engineer Magic. Attract Community. Make Profit.

LIVE Workshop on Zoom!
Date/Time TBD
You successfully marketed and executed your dream retreat… all while creating 4 or 5-figure profits and having fun growing YOU and your business!
This workshop is for yoga teachers, wellness facilitators, and travel entrepreneurs looking to organize their first retreat with strategy & profitability, or take their retreat(s) to the next level with grace and growth!
So if you want….
To design a fun-filled enriching retreat that's an authentic expression of you
Tips and guidance on executing a retreat in the new normal
Some high-level strategies to speak directly to your clients seeking exactly what you offer
Or just learn more about retreat design, marketing, and execution before committing …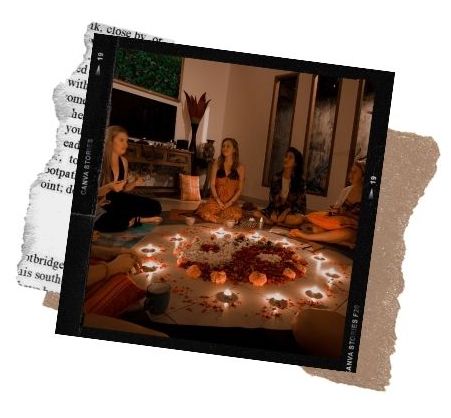 ...Join me for this one-time workshop that includes:
– A condensed 45 minute meditation + vinyasa yoga session led in her retreat-style, so you can feel how you might tailor your classes to create a retreat journey. 
– A visualization to bring elements of your dream retreat to life.
– How retreats can grow your business and YOU in an authentic and aligned way. 
– Overview of different styles of retreats to find out which excites you most.
– How engineering transformation and magic for your community can offer lasting impact on the lives of your attendees who want to come back for more! 
– 15 min Q&A so you can receive consulting or coaching on your ideas or challenges.
…you're thinking now is not a good time to plan a wellness travel experience? …Surprise! It's not! We filled our sold-out October 2021 retreat in Santorini, Greece just through social posts, with 8 of our 15 attendees putting in deposits in the first 3 days!
And that's not all, the next retreat for Maldives summer 2022 sold 9 spots in the first week…
And the next Santorini retreat in autumn 2022 sold 8 spots again the first week!
SO yes, this is EXACTLY the time to plan a retreat, for your community to focus on their self-care and growth, while living more ALIVE than every before. 
To sign up or learn more, DM @cynthiatravels or email cynthia@cynthiatravels.com. I look forward to helping you curate a dream retreat only YOU could uniquely offer. "I had a few light bulb moments in areas I was struggling with in my own life. Cynthia's retreats make me realize what it's like to have adventure in your life. That was the biggest eye opener – I want to continue moving. I don't want to be stagnant. If you're looking for a really great time or after something different outside of your comfort zone, I highly recommend Cynthia!"
– Amy Cunningham, Australia/Malaysia, school & yoga teacher, attended 4 retreats in Malaysia, Bali, & Sri Lanka
Aloha, I'm Cynthia! I am a creative event and travel architect, passionate about crafting dreamy experiences ooozing and ahhing with inspired moments of magic. 
Since 2017, I've designed and ran 12 intimate island retreats for 100+ attendees across 5 countries – Malaysia, Indonesia (Bali), Sri Lanka, Croatia (Hvar & Vis islands), and Greece (Santorini). My travel and pop up experiential events further include 5 university abroad trips for 175 students across 4 countries, along with 100+ unique dreamy events I designed for various communities for 3000+ participants. 
Alongside my 2022 retreats (Maldives, Utah, Santorini), I customize wellness programs and universities, as well as support other yoga teachers and wellness facilitators through my Dream Retreat Accelerator 1:1 coaching program. And planning to soon organize my first Dream Retreat Leader Mastermind Retreat! Alongside my 12 years of continued online marketing professional experience, I look forward to sharing my best practices to help you elevate your business with your own dreamy retreats!
For some retreat reviews: cynthiatravels.com/retreat-reviews (including some who have come back for a 2nd, 3rd, or 4th retreat!), highlight reels on @cynthiatravels, or for more: bio.site/cynthiatravels. Don't be shy and look forward to how I can best support you!
Reviews from Retreat Design Clients
"I have been working with Cynthia over the past month within her Dream Retreat Accelerator 1:1 Programme and am so impressed with her thorough, positive and professional coaching approach!

Her knowledge and passion is brilliant, already laying the strategy and groundwork for me to expand my wellness business into offering magical and bespoke destination retreats.

I am already beginning to generate interest for my first retreat! Giving me the confidence to launch this offering to my community.

One of the things that really appealed to me about Cynthia's programme was the extent of her industry knowledge and experience, and the valuable contacts she has within the industry including venues.

Her support will no doubt save me a lot of time and money, and already helping me mitigate costly and stressful mistakes! Thank you Cynthia!"

~ Gemma Allies, UK, Founder, Wellbeing with Gemma
"We run biannual personal growth summits & conferences for 200+ professionals. So when it came time to plan our first retreat in Bali, people recommended Cynthia! Her program support and tips were exceptionally valuable. She really knows what works from her experiences! She connected us to some of the best experts and local vendors to help put together a life-changing itinerary. Some said it was the best time of their lives! And then her yoga session was more than just yoga. It was a cohesive experience with meditation, journaling, & sharing that took the group to another place. Highly recommend her services from yoga to event planning!"

~ Celia Hamitouche, France, Co-Founder, LifePlugin
"As a business owner just beginning to integrate retreats into their offerings, I had NO IDEA where to get started. Before reaching out to Cynthia, my business partner and I were unsure of the background steps to take in order to set up an awesome retreat and felt nervous about launching it into the world.

When we finally chose to say yes to working with Cynthia, she instantly met us with empathy and TONS of well thought out resources and support.

By the end of our journey with Cynthia, we felt much more confident launching our retreat and felt prepared to scale our vision into the future. We especially appreciated the insight on the little details about retreat planning that we would have NEVER thought of without her expertise.

Cynthia was flexible, bubbly, and very professional!"

~ Amanda Rose Campanaro, Canada, Founder, Mindful Magick Method
"We're familiar with Bali but planning a team retreat was different! Cynthia was instrumental and made it easy for us to show up and lead our first company retreat. From sourcing breathtaking villas for us to choose from, recommending the best new restaurants, agenda planning, connecting us with other wellness experts and activities, staying within our budget, and her flexibility to adjust to new requests on the spot - we couldn't have done it without her!"

~ Neeta Bhushan Nawalkha, US, Co-Founder, Global Grit Institute
Ask me a question or Book your Spot!