Maldives Yoga Adventure Retreat on a Liveaboard!
6 Days Sailing Maldives & Island Hopping – July 24-29, 2023
You're invited to a once-in-a-lifetime retreat with Cynthia – a big HIT in 2022
This was the first and still the ONLY yoga retreat in Maldives on a liveaboard boat!

Soak in the Beauty of your Life

Life & Travel, Redesigned.
Mind, Body, Spirit, & Wellness, Renewed.
This unique "create your own adventure" retreat has been carefully crafted to guide you back to yourself in the most authentically alive way possible, and not just for yoga enthusiasts!
What if you could let yourself enjoy…
To hop aboard a curated island hopping adventure cruising the pristine Maldives, a place many people dream of for their honeymoons? 
To re-emerge completely alive again, with a spark in your soul to grow and stretch into feeling oh-so-spacious and deliciously expansive?
To meet your kinda tribe, while building exciting friendships and connections with like-minded spirits that extend far past our retreat together?
Maldives. Aka the ultimate paradise island vacation of your dreams! An exotic tropical nation in the Indian Ocean made up of 1000+ endless spotted islands with endless surreal beaches, blue lagoons, and extensive reefs against the different shades of turquoise.
An all-inclusive full-board (all meals) liveaboard retreat gives us a streamlined experience voyaging into some of the best scenery and adventures Maldives has to offer. Upon landing, we'll scoop you up onto our liveaboard boat to embark on an unreal yoga, wellness, and adventure vacation island hopping for 6 days! 
What better way to experience the dreamy gifts this corner of the world can offer than to dip into the silky waters and get a chance to peek at the unreal underwater scene with chances to spot dolphins, sharks, mantas, and endless vibrant fish?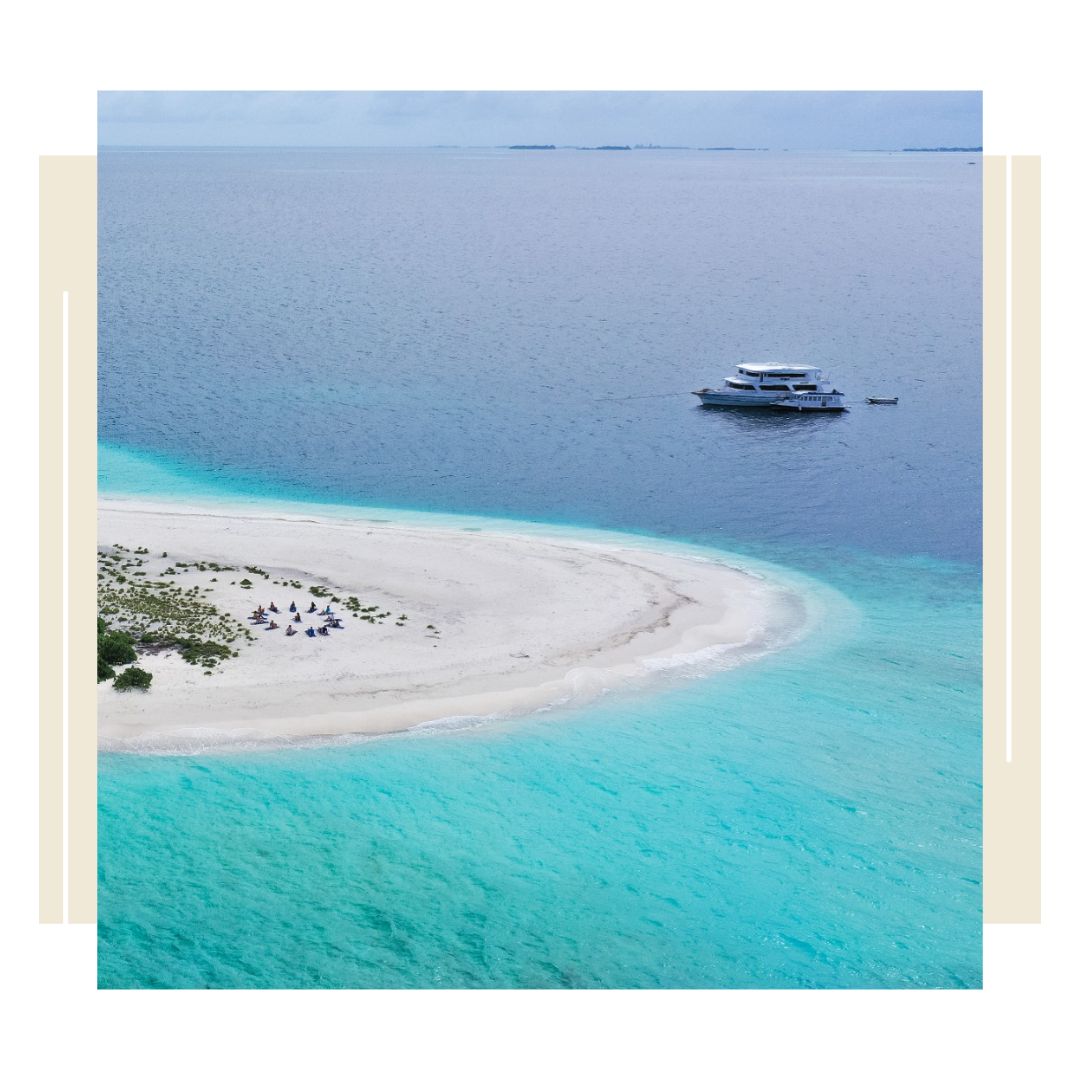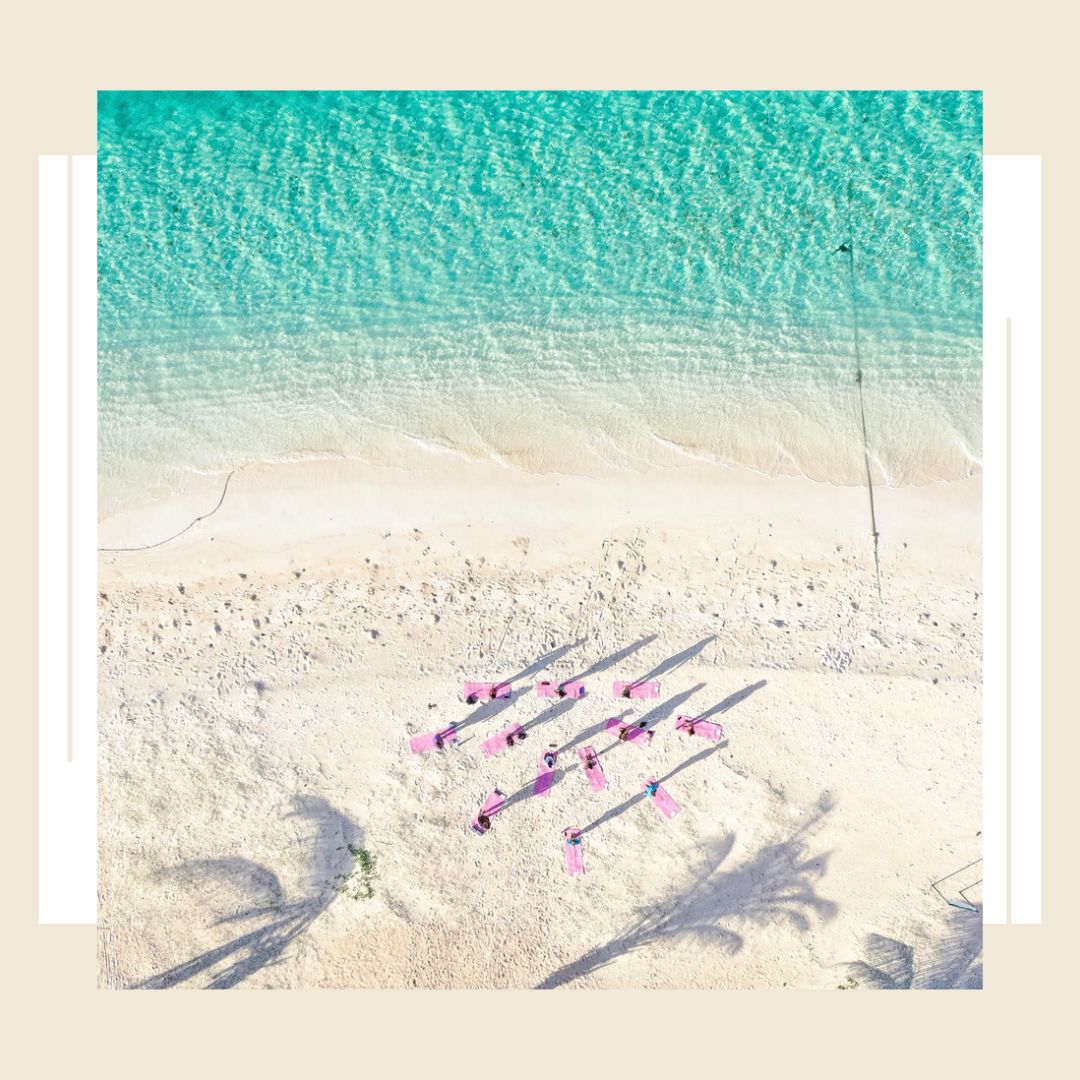 Start your days with sunrise, meditation and life reflections on the sundeck with expansive sweeping views of the 99% sea nation and its endless islands. No better way to gain perspective than floating on the ocean! 
Some days, we'll have gentle morning yoga on the sundeck too, and other days, we may hold a more dynamic vinyasa yoga on a beach on a smaller island or sandbank. Like each activity, all classes are optional and for all levels and abilities, no prior experience necessary.
We'll fuel up on breakfast before heading off for our daily land and sea adventures on different islands, beaches, or surreal snorkel spots. One day we'll have a chance if you would like to add-on more sea adventures – scuba dive, kayak, or standup paddleboard.
After shuttling back onto our boat, we'll cruise to a new location – a different kind of island to explore – local, inhabited, uninhabited, a sandbank of raised sand above the water, or a sweet snorkel spot! Some days we'll have the opportunity for a second yoga session such as a slow flow sunset yoga on top of the boat under the evolving sunset water colors, before dinnertime and winding down. 
And on top of all that...
As a special touch of nature's gems, we'll get to visit a few of our own "deserted island" white sandbanks! The perfect paradise playground and photo backdrops of our postcard dreams, as well as opportunities to get more comfortable with snorkeling!
We'll also be stopping at incredible spots where you can observe the sea life you may have never thought possible – sting rays, nurse sharks, and much more. As well as one of the most incredible above-and-below shipwreck with vibrant coral and fish!
A hit in 2022, Cynthia will bring back an "Amazing Race" team activity to tickle your fun competitive side, sparking a lil excitement to an island with a 25-min walking perimeter! 
This will be the tranquil backdrop of our adventure together with other free-spirited and fun-loving souls like yourself. Expect the invitation to join daily reflection and journaling, inquiry and dreaming, belly laughs and life talks, and so much more! 
Everything is designed so that you can re-envision what makes you come alive and enjoy the life you never knew you were meant to live!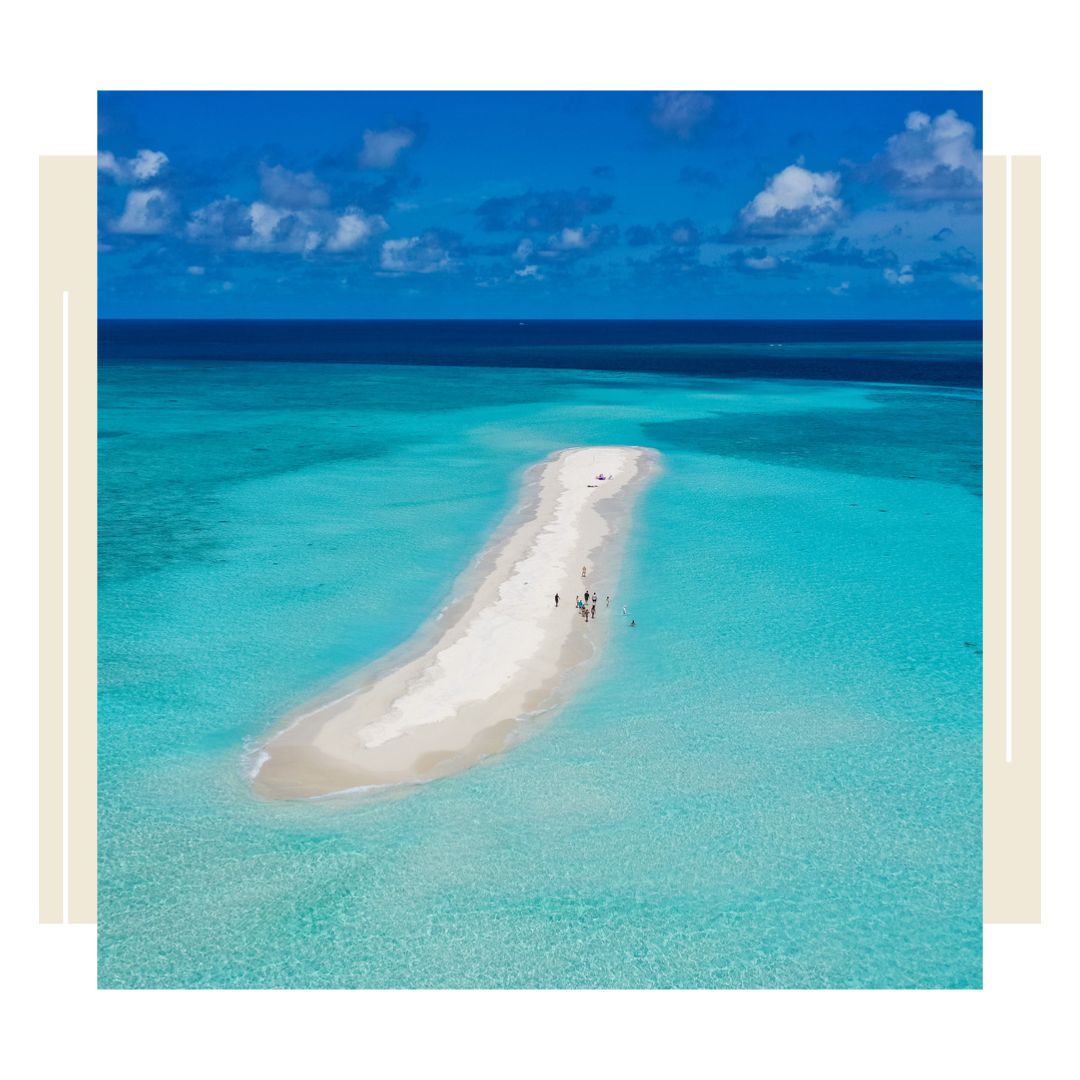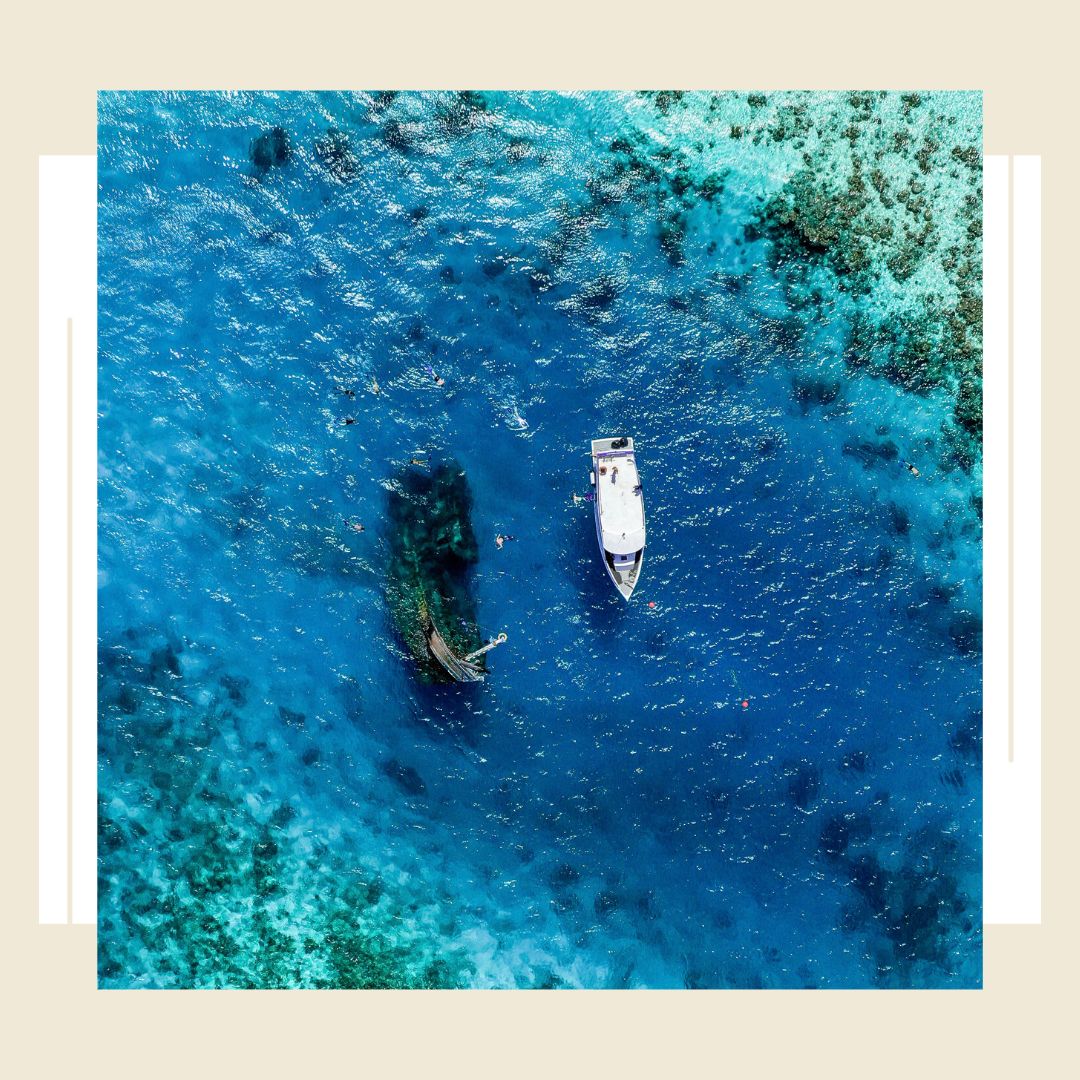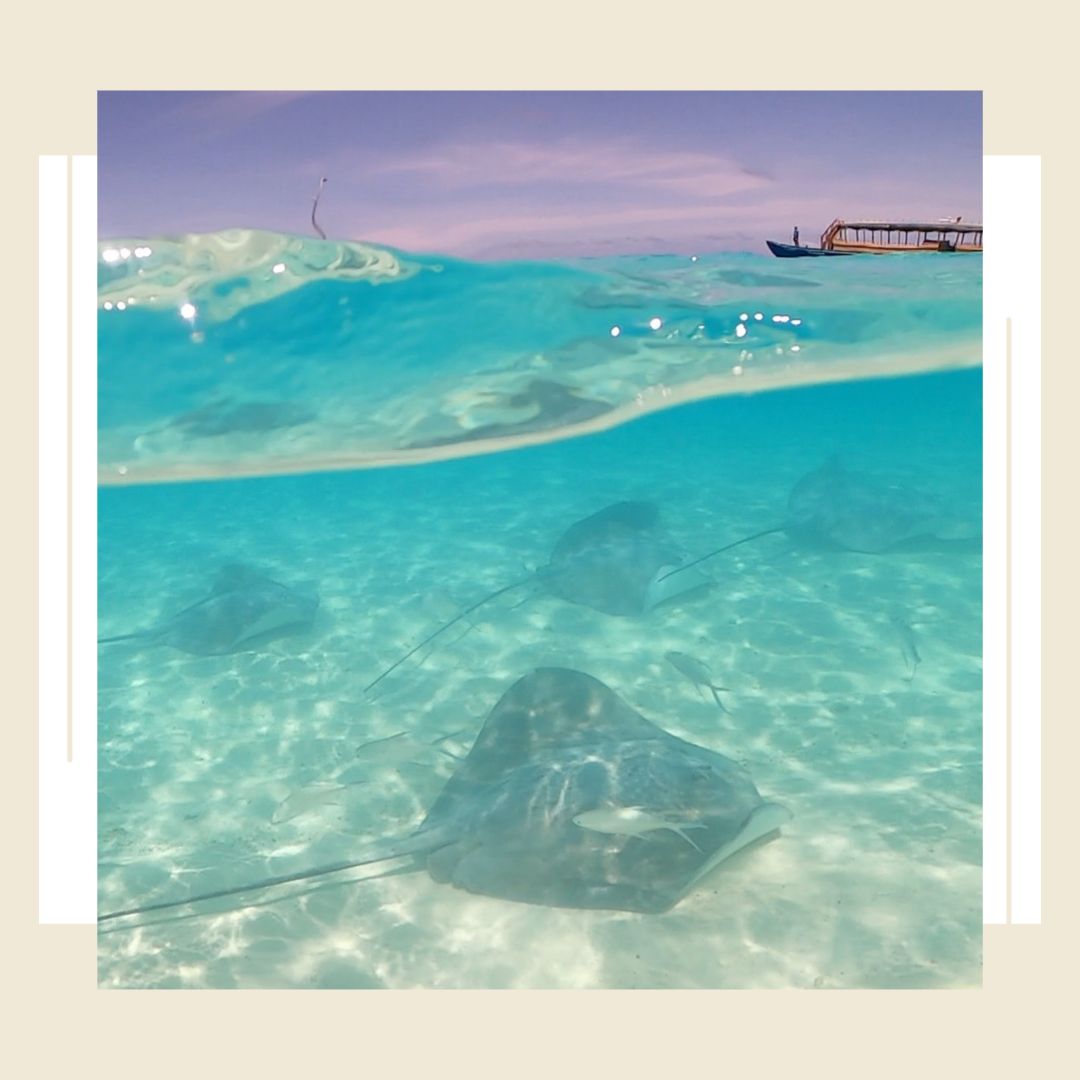 "I had a few light bulb moments in areas I was struggling with in my own life. Cynthia's retreats make me realize what it's like to have adventure in your life. That was the biggest eye opener – I want to continue moving. I don't want to be stagnant. If you're looking for a really great time or after something different outside of your comfort zone, I highly recommend Cynthia!"

–  Amy Cunningham, Australia/Malaysia, school & yoga teacher, attended 4 retreats in Malaysia, Bali, & Sri Lanka
We will live and sail the Maldives on the 92-foot award winning liveaboard yacht. The boat is outfitted with 10 comfortable cabins for 2, each with air-conditioning and an en-suite bathroom with hot water.  There's plenty of space to mingle with your new friends or retreat to yourself in your room, the spacious sundeck, or common areas. 
On-ship activities include meditation and gentle yoga on the sundeck, international cuisine prepared by our boat's chef, drinks at the bar (available in Maldives only at resorts designated boat-bars, and some liveaboard boats like ours), with plenty of time for sunbathing, wellness chats, storytime, and evenings after dinner on the "star-deck"!
We'll be in great hands, as our captains and crew are experienced and developed their love and knowledge of these waters for over the past decades. Our boat also won "Best Fishing Safari" and "Liveaboard Captain of the Year" awards at the Maldives Boating Awards 2017! Get a 360° feel of our unreal sunset yoga experience below: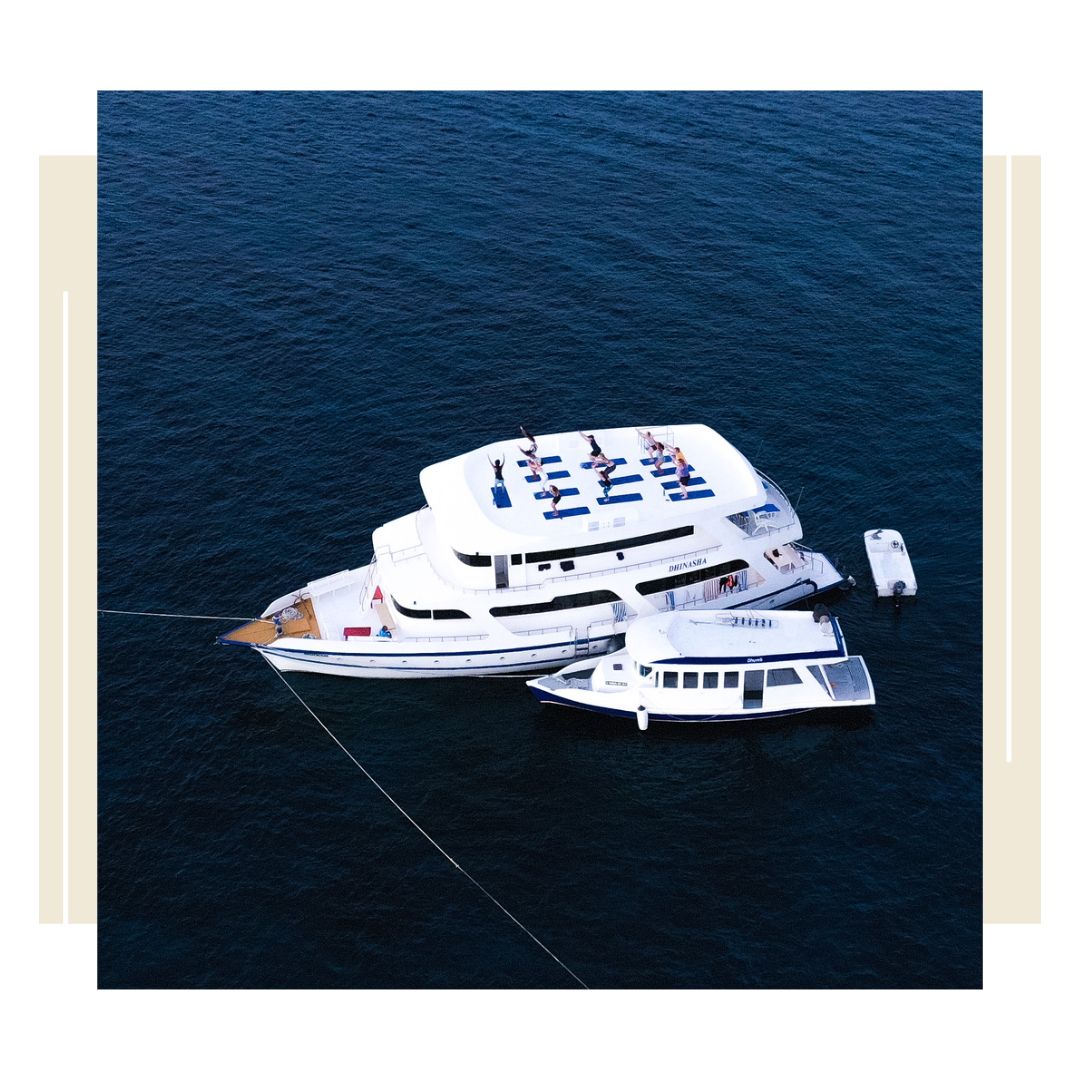 So, why a Liveaboard in Maldives?
Having traveled 70 countries and living around the world, Cynthia's picked up a bit of an intuition for identifying spaces with tranquil, yet powerful vibes. Where the land and mother nature nurtures powerful group journeys, elevating transformation group wellness retreats to its greatest potential.
No better spot than under this vast open sky, white sand, turquoise waters, twinkling stars, and magic all around. Get ready for inspired interactions, nature-inspired adventures, and compelling stories!
Not convinced? You'll just have to join us this summer to experience the magic yourself!
And you can check out @cynthiatravels Instagram for more of the fun & snapshots: @cynthiatravels I recommend Cynthia's retreat to everyone! Not just a vacation, it's really a whole transformation of thinking outside of your lens. This retreat is for anyone who needs to widen their perspective in an encouraging place. This is exactly where you will find it."
–  Karen Wu, USA, Consultant, attended an island retreat in Malaysia
Your All-InclusiveExperience Includes:
Room Details & Pricing Request:
All rooms fit up to 2 people and includes a/c and an en-suite attached private bathroom with hot water. 
With different rooms & pricing tiers, DM me directly or send a request below to get the most updated details: 
Let me know asap if you are interested. 2022 was sold out, including 60% returning attendees from past retreats!
See below for the blueprint of our liveaboard boat home. Not pictured is the sundeck 4th floor above the Upper Deck at the top where you can hang out solo or as a group, meditate, practice yoga, stargaze, and more!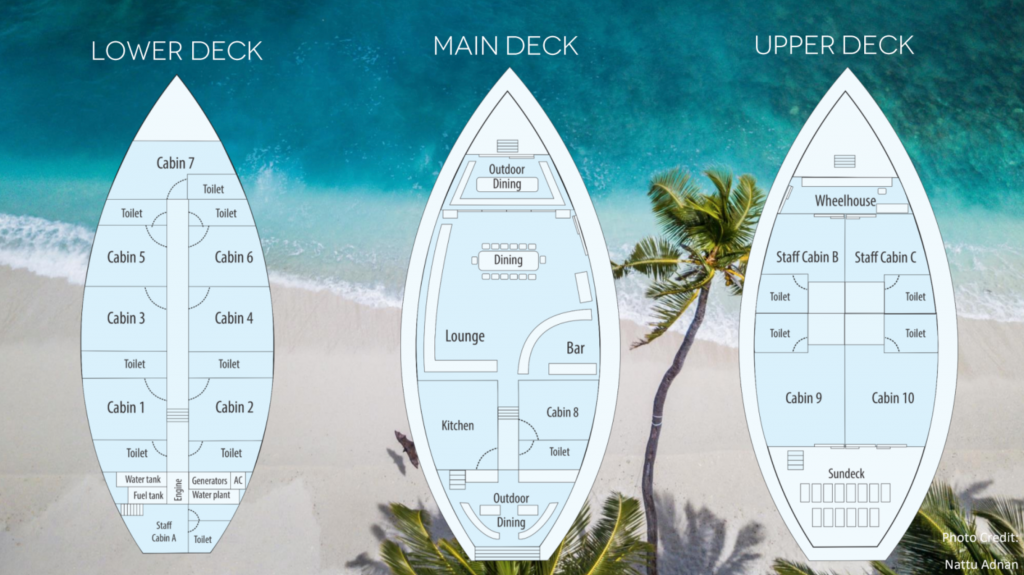 From the Chicago area and traveling 70 countries in 7 continents, Cynthia Wong is passionate about creating inspired events to help people design their own authentic dream life. She's ran island yoga adventure retreats across 7 countries and is ecstatic to repeat this retreat as it was such an epic hit in 2022. AND it was the very first yoga retreat on a liveaboard boat ever in Maldives!
Cynthia's taught across nearly 20 countries for over 3000+ students, of which 200 were outdoors and allowed her to integrate the magic of nature. She has over 500 hours of yoga teacher certifications in Bali in Vinyasa Yoga, Standup Paddleboard Yoga, Pre & Post Natal Vinyasa Yoga, Restorative Yoga, and has further delved into women's yoga, tantra yoga, shamanic astrology, theta healing and more.
She also organizes corporate and university wellness sessions, inspired group travel coordination worldwide, and most recently, coaching-consulting yoga teachers and wellness facilitators to design and fill their own dream destination retreats.
Overall, she loves helping people find a better balance of effort and ease in their life. She's driven by a desire to discover what magic happens when we live with wild abandon, give without expectation, and love without fear… so that we can all Live in Adventure any day!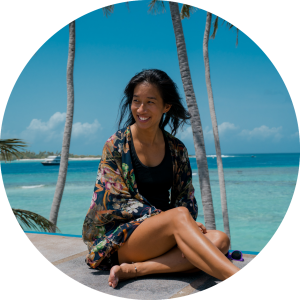 What People Say from Maldives 2022:
"My favorite part was just getting onto a boat with an amazing group of people exploring Maldives... And snorkeling with the sharks! Something I never thought would be available toe me because I don't scuba dive. It was so wonderful swimming with them and they were so friendly and kind. It was a special experience!"
"...This is my second retreat with Cynthia (and coming back for a third) is that she makes everyone feel so welcome. She's so engaging and makes sure everyone is always included.... Something I've learned that I forgot during the pandemic and will take home is to push myself out of my comfort zone. Be open to new experience and new things!"
"The best part always with Cynthia is that ...it's people first, and then not just a wellness experience or retreat. It's more like a one-time life experience that I don't want to miss because of the people that she keeps attracting into her life. These are the connections you take further into your life forever. ... What will I take away? All the beautiful memories with sharks, manta, sting rays, dolphins. And the laughs, giggles, the connections. And the incredible views we woke up to, the sunsets. Magical! I think we saw a 5-color beautiful sunset on the roof of the boat and I just stopped my yoga practice."
"The part that got me really excited was seeing the wildlife under the water! It's a perspective that's not easy to find, even when you to places famous for it like the Great Barrier Reef - I've seen more diversity and more amazing sea life than anywhere else! Made me feel really alive. ...This is my third retreat with Cynthia so I knew it would be amazing but I had no idea what was in store for us. It's crazy, if she advertises all of the amazing experiences we had, people will be lining up to come to her retreats!"
Sneak Peek from 2022 & our Boat!
Don't wait! Lock in your spot today. You don't want to miss your chance to secure one of the limited spots for this unique Maldives islands adventure! This won't be happening next year & not sure when next time will be!
Look forward to hearing from you and bringing together the best tribe for this epic adventure in nature with an extra special twist. 
Any questions?  DM me, email cynthia@cynthiatravels.com, or feel free to book a call to chat more. I promise I don't bite! 
A few of the most frequent questions answered here!
What People Say from Past Retreats:.
"This past week was surreal to me... the entire experience just exceeded any expectations I could have had. Cynthia's retreats cater to people of all walks of life without any judgement."
"...Cynthia's retreats are for anyone looking to get out of their comfort zone, & also looking to meet people on a different level. They're so much more than just yoga & adventure."
"As someone who had never done yoga before, it was the highlight! ... And an activity visualizing my ideal life will help me be more practical & tactical in achieving my goals."
Get in touch or Book Now!
Let me know if you have any questions or are ready to book! Please complete the form below or email cynthia@cynthiatravels.com.
Please let me know if you are interested, and I'll keep you informed before we sell out! Additional retreats can be viewed here.