Upcoming Yoga Retreats Around the World
Wellness. Community. Magic.
Which retreat adventure are you seeking?
Maldives Islands: 2022
Island Hopping Yoga Retreat on a Liveaboard!
SOLD OUT!
Utah Adventures: Sept 2022
Exploring Nature's Magic & Guidance Over Labor Day
SOLD OUT!
Santorini, Greece: Oct 2022
Join us for Popular Annual Retreat!
Opened in April with 8 spots filled!
Click more further below!
Sneak peek into some fun & adventures!
After designing 12 yoga adventure retreats across my most favorite islands in the world – in Malaysia, Bali, Sri Lanka, Croatia, and Santorini, Greece – I invite you to join us for one of my upcoming hand-crafted experiences! We'll stay at boutique accommodations, relish in exquisite food, enjoy postcard-scenic adventures, practice mediation and yoga blended with nature, local touches, and original surprises that will make up some of the most transformational and fun moments of your life!
Filmed & edited by Leah Lach from USA, and all photos on this site in Santorini, Greece credited to her: @leahlach | lmariemedia.com "I had a few light bulb moments in areas I was struggling with in my own life. Cynthia's retreats make me realize what it's like to have adventure in your life. That was the biggest eye opener – I want to continue moving. I don't want to be stagnant. If you're looking for a really great time or after something different outside of your comfort zone, I highly recommend Cynthia!"

–  Amy Cunningham, Australia/Malaysia, school & yoga teacher, attended 4 retreats in Malaysia, Bali, & Sri Lanka
Your chance to join a lifetime adventure in 2022!
1. Island Hopping on a Liveaboard in the Maldives!
July 2022 [Sold out]
Imagine getting scooped up from the airport onto our liveaboard boat to embark on an unreal yoga, wellness, and adventure getaway where we will go island hopping for 6 days!
This super unique liveaboard retreat (even to the Maldives!) offers us a streamlined voyage into some of the best scenery and adventures the Maldives has to offer. Join our awesome group for this one-time experience, of which 7 people are returning attendees with Cynthia!
2. Wellness Retreat in Utah, USA!
Over USA Labor Day Weekend [Sold out]
Cynthia's 14th retreat across 7 countries will be her first in the USA!
We'll whisk you away to a charming rustic modern lodge in a forested canyon, painted with timeless mountains, spotted with lakes and, if we're in luck, a curious deer awaiting your arrival!
You'll step into a fairytale cabin in the woods, oozing with warmth and ahhing with Utah's grace – the gentle touch of wilderness for us to seek laughter, inner refuge, and explore bigger life questions and answers!
3. Luxury Retreat in Santorini, Greece!
October 2022 [Sold out]
One of her signature retreats, our 5+ day adventure yoga retreat in Santorini – aka the supermodel of all Greek islands – is your getaway to reignite your nature to feel curious, alive, and ready to take on your world.
Get ready to lean into the creative inspiration that surrounds you each day on our retreat, a practice that will continue to transform the way you live your life. "Cynthia's Christmas retreat in Bali was one of the best decisions I've made in my life thus far. I am so grateful to have met everyone on it. I still talk about that Christmas morning surprise. The hike and the silent disco at the top of the volcano. I've never cried so many tears of joy! 

I can't even explain how amazing the retreat was. I rave about Cynthia's retreats to everyone who asks. And even those who don't! Not only was she amazing, but also the energy she and her friends and partners brought was spectacular. It was my first solo trip, and I made friends for life and memories I'll never forget. I cannot wait to join another one of her retreats!"
–  Jill Getz, USA, entrepreneur, attended Bali Christmas Retreat in 2018
Originally from Chicago and traveling 70 countries in 7 continents, Cynthia Wong is passionate about creating inspired events to help people re-design their own authentic dream life.  In 2022, she will be running on her 13th (Maldives), 14th (Utah), and 15th (Santorini, Greece) yoga adventure retreats across 7 countries. Feel free to see attendee reviews [HERE], many who came back for multiple retreats!
Cynthia's taught across 17 countries for over 3000+ students, of which 200 were outdoors and allowed her to integrate the magic of nature. She has over 500 hours of yoga teacher certifications in Bali in Vinyasa Yoga, Standup Paddleboard Yoga, Pre & Post Natal Vinyasa Yoga, Restorative Yoga, and has further delved into women's yoga, tantra yoga, shamanic astrology, theta healing and more. She also organizes corporate and university wellness sessions, inspired group travel coordination worldwide, and coaches-consults yoga teachers and wellness facilitators to design and fill their own dream retreats. 
Overall, she loves helping people find a better balance of effort and ease in their life. She's driven by a desire to discover what magic happens when we live with wild abandon, give without expectation, and love without fear… in order to Live in Adventure any day!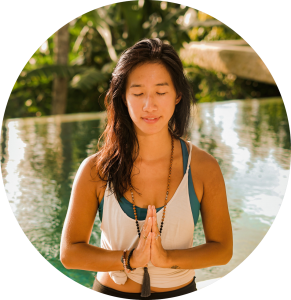 "I also give a lot of credit to Cynthia as she builds these very natural and nurturing relationships. Not just with everyone who attends the retreats, but also with everyone behind the scenes that make everything happen. The cooks, the people who manage the accommodations… she has this wonderful rapport and relationship with them. That allows the experiences to be a great amalgamation and mix of local culture, delicious food, community, and yoga. There's a lot of little moments for introspection, to connect with other people, as well as time to reflect on who you want to be, and where you want to go.
And you get to decide what you want to do or not. That's what I really love about her retreats. You get to decide if you want to do the hike, the meditation, the yoga. You decide your adventure. And how much you give is how much you get out of it!"
–  Gail Rego, Dubai/Brussels, Singer & Freelance Communication Consultant, attended 3 retreats in Bali, Santorini, & Maldives
Don't wait! Lock in your spot & price today. You don't want to miss your chance to secure one of the limited spots for our yoga wellness retreats!
Not sure which retreat is your adventure?
Feel free to message Cynthia directly below or book a call. Promise I don't bite! 
Look forward to hearing from you and bringing together the best tribes for each experience. Join us and also find out why 20-60% of each retreat is made up of returning attendees from past retreats elsewhere in the world.
Let me know if you have any questions about upcoming retreats or requests to customize or consult on a retreat for your company, organization, or group of family or friends either local or abroad.
Just complete this form or email cynthia@cynthiatravels.com.
I love hearing from everyone!