Santorini Yoga Adventure Retreat in Greece!
5 Days of Wellness & Exploration in October 2024
Your Luxury Ticket to the "Supermodel" of Greek islands with Cynthia Wong & Marie Anderson!
4th Time Retreat – Reach out at the bottom page to get info & first dibs!

Feel Expansive & Free in your Life!

Life & Travel, Redesigned.
Mind, Body, Spirit, & Wellness, Renewed.
Imagine waking up in a villa paradise with 5 days of wellness, 
fun exploration, community connection, and pristine beauty…
Sound good? Read on!
For our "create your own adventure retreat",
what if you could let yourself enjoy…
To forever take with you long after our island adventure exploring breathtaking Santorini, Greece – a place many people dream of for their honeymoons? 
To re-emerge completely alive again, stretching outside your comfort zone to flow into your newfound freedom & delicious expansiveness?
To meet your kinda tribe over scintillating conversation & laughter, building new worldwide friendships with like-minded spirits, extending far past our retreat together?
Sneak peek into past Santorini adventures & fun!
Get a taste of all the fun we had in October 2021! Filmed & Edited by Leah Lach, and all photos on this site credited to her too: @leahlach | lmariemedia.com
Close your eyes & imagine....
Kickstarting your wellbeing – physical, emotional, and spirit – with a hand-crafted experience designed around connection, community, and wellness.

Our 5+ day adventure yoga retreat in Santorini – aka the supermodel of all Greek islands – is your chance to break free from any routines and molds in the most freeing way possible.
This is for you if you're on the hunt for novel adventures, fresh experiences, and new perspectives.
Your getaway to revitalize your soul, reactivate your sense of adventure, and reignite your nature to feel curious, alive, and ready to take on your world.
Get ready to lean into the creative inspiration that surrounds you each day on our retreat, a practice that will continue to transform the way you live your life.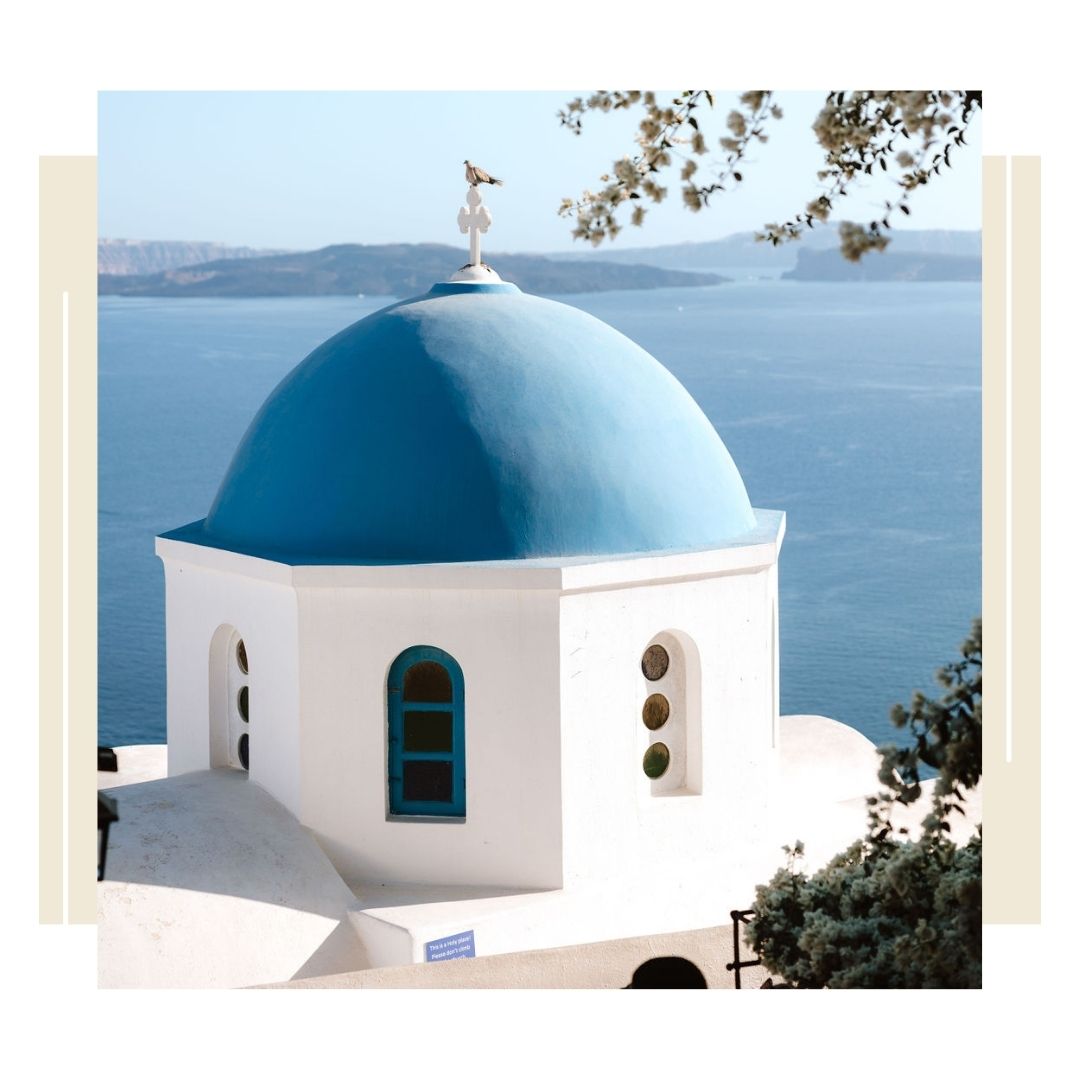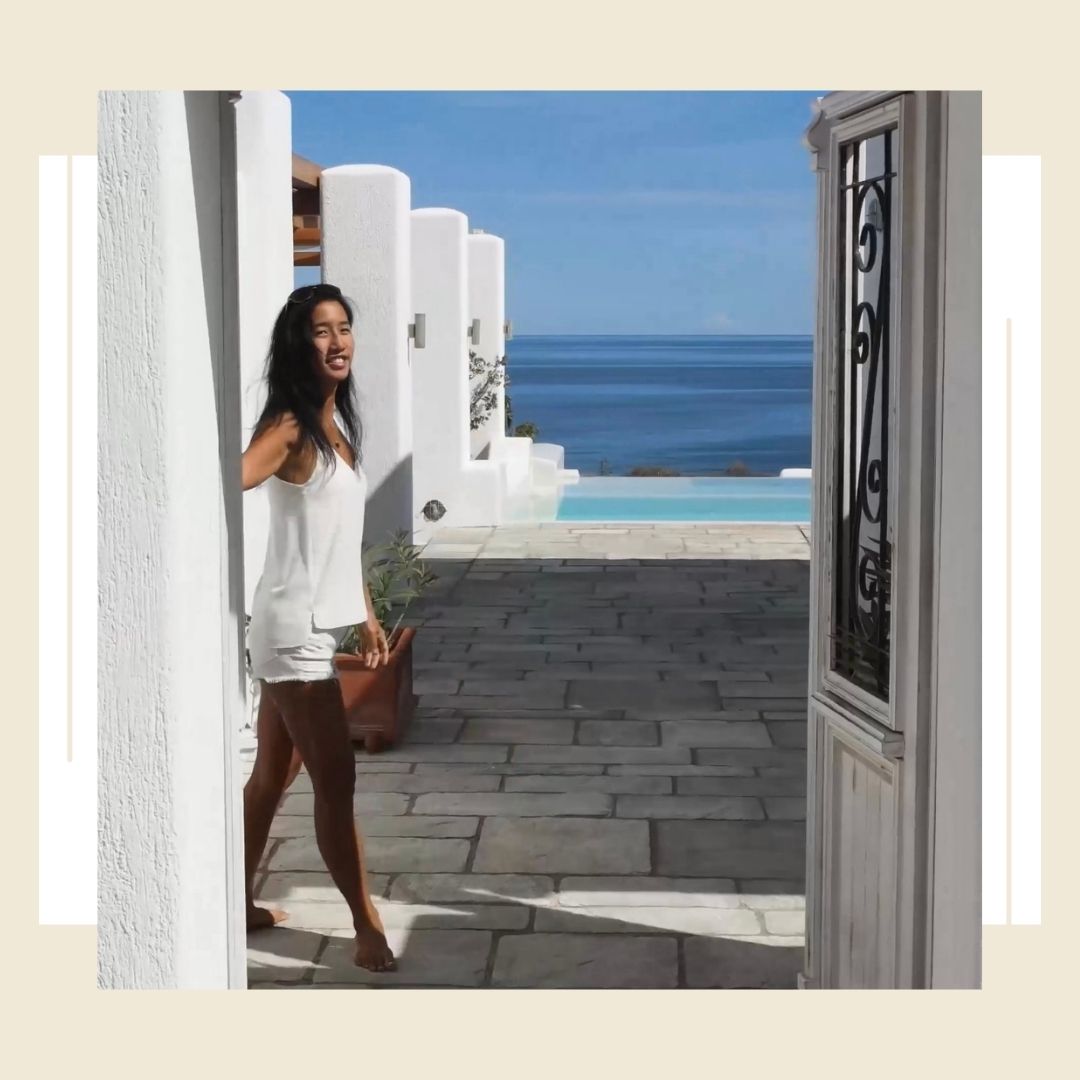 The feeling you'll take away...
Our time together will invite you to step into the new possibilities of each day. Life is designed to inspire the creative artist within each of us, so YOU can come alive.
Remember: the experiences you open up to, the memories you can re-live, and the way you live your life will far outlast the day-to-day work you do. So how do you want to remember your life? How do you want to reward yourself? 
Join us, and we'll help guide you out of your head and into your heart. You'll become filled with a greater capacity to love yourself, your life, and the people around you.
Leave enriched with the ever giving gift of being present. Of enjoying moments of laughter, beauty, and bliss. Of welcoming in peaceful luxury and soulful surrender. Of returning to the sanctuary of your heart. 
From this place of rejuvenation, you'll expand your capacity to embrace not only the gems of Santorini and our retreat together, but further to embrace the precious gift of your life!
Your luxury home away from home...
If you've been nesting in your home for a bit too long, it's time to break free!
Our villa oasis offers serene privacy, far from the crowds that normally pack the iconic Santorini towns. While only a 7-minute drive from central Fira town, our Anema Residences live on the opposite side, facing sunrise and just a 5-minute stroll from the beach where the ocean breeze can tickle your senses.
Come alive again as you exhale into your new home. Where harmony meets luxury. Where modern luxury taps tranquil heritage. Where the sky and sea blend its color palette to satisfy the pool. Living art existing in villa form. 
As soon as you step foot onto this island and into your villa – you'll know you have arrived.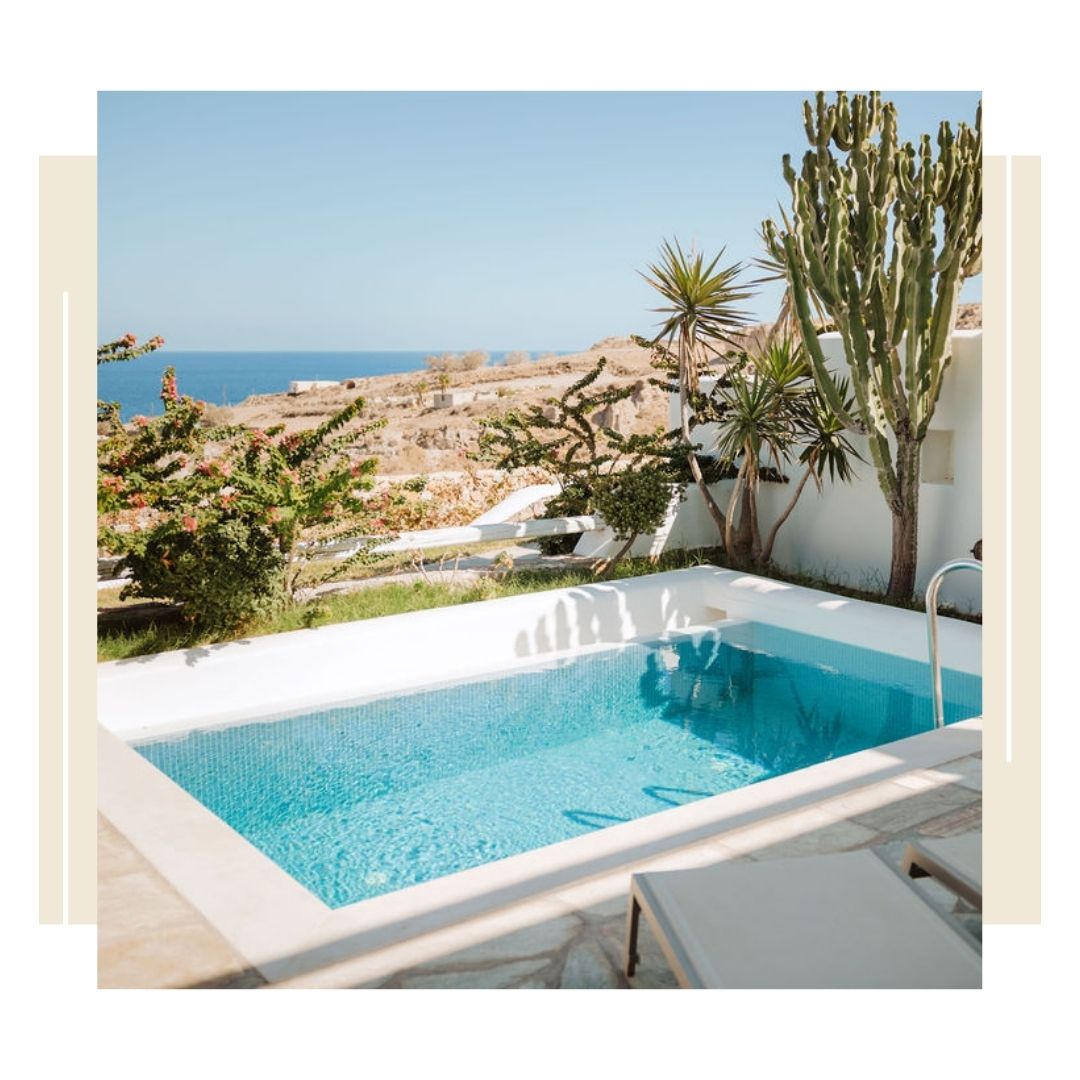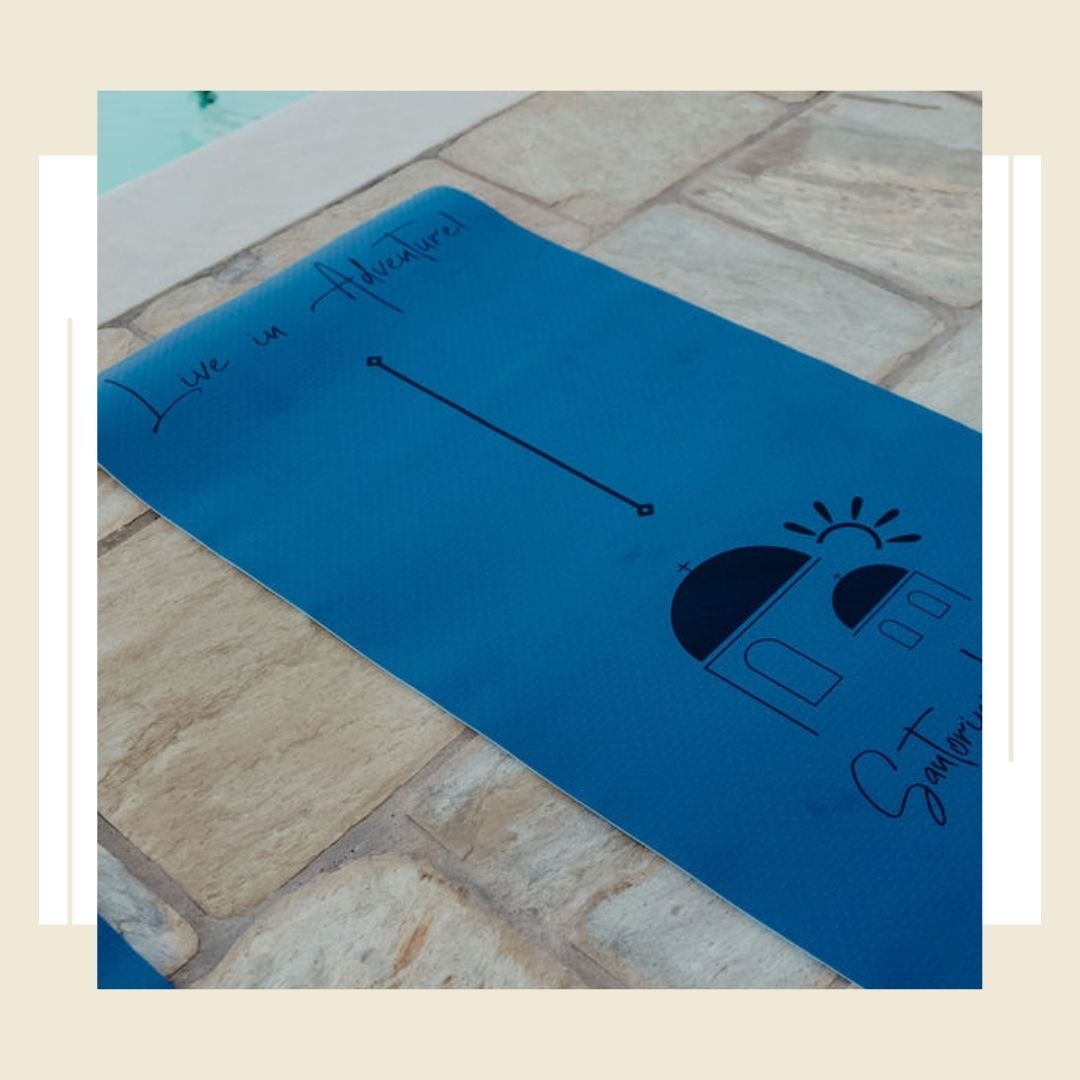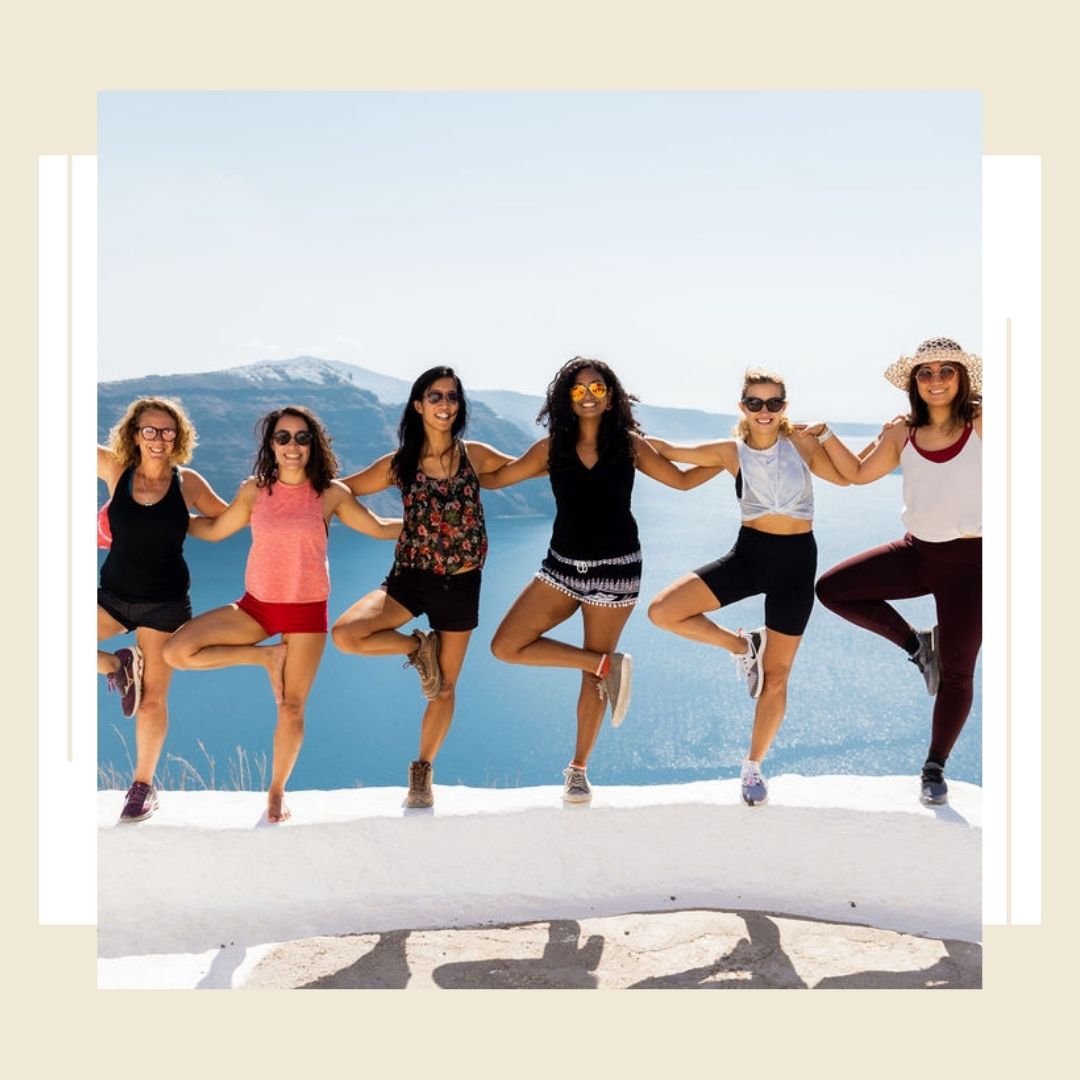 "I had a few light bulb moments in areas I was struggling with in my own life. Cynthia's retreats make me realize what it's like to have adventure in your life. That was the biggest eye opener – I want to continue moving. I don't want to be stagnant. If you're looking for a really great time or after something different outside of your comfort zone, I highly recommend Cynthia!"

–  Amy Cunningham, Australia/Malaysia, school & yoga teacher, attended 4 retreats in Malaysia, Bali, & Sri Lanka
Your wellness & adventures agenda:
In addition to morning meditation, yoga 2x/day (all optional!), 3 meals/day, wellness sessions or talks, and some free time, below are our daily unique excursions:
Day 1: Welcome snacks & drinks, opening circle, sunset yoga, & welcome dinner.
Day 2: Embark on a 2.5 hour breathtaking hike from Imerovigli to Oia along the caldera, lunch with views, and back to our villas for sunset yoga and dinner.
Day 3: Two options: optional add-on afternoon boat cruise with dinner and front-row sunset views! Or Marie will lead others on an exploration of the group's choice on the island. Then candlelight evening sharing and appreciation circle, and if time permits, restorative yoga to prep for the best sleep!
Day 4: An afternoon experience wandering and shopping Imerovigli to soak in the zen views and sunset views, then back to our villa for dinner with a Greek twist! 
Day 5: Final morning rituals and closing circle, and airport drop-offs. For anyone leaving later in the day, we can explore a nearby town!
Extension Day 6 & 7: We are offering a 2-day extension program for those who want a full week of wellness & adventures! Choices include: winery, ancient ruins, beach or iconic town, as well as a customized program designed to support your transition from empowered inspiration to manifesting daily renewed wellness, self-love, care, & work-life balance.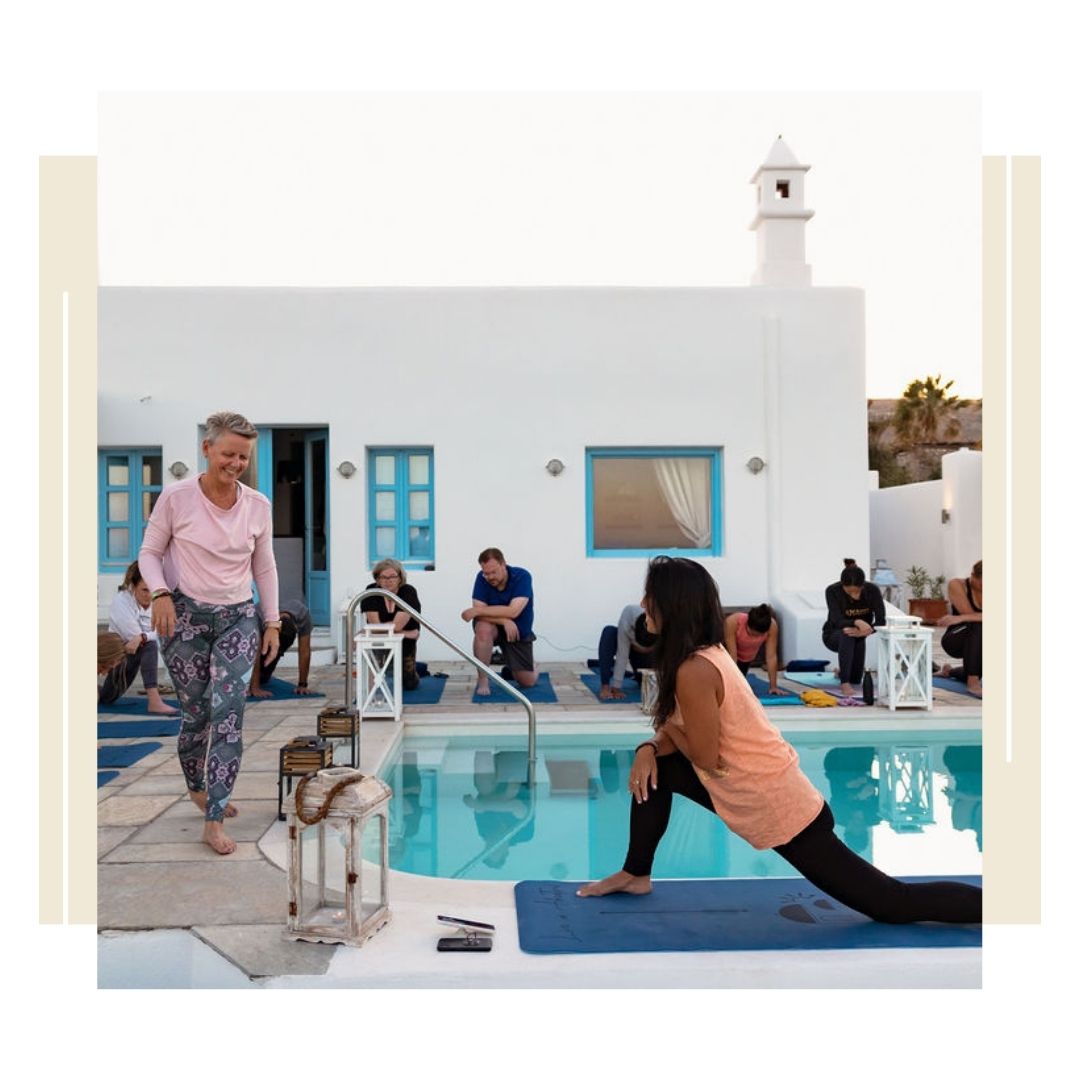 So, why Santorini island in Greece?
Having traveled 70 countries and living around the world, Cynthia's picked up a bit of an intuition for identifying spaces with tranquil vibes and potent energy. Where the land and mother nature nurtures powerful group journeys, elevating transformational group wellness retreats to its greatest potential.
These places become another home for her, and her mission becomes sharing these sacred spaces and community with others.  On Cynthia's fifth visit and Marie's third to Santorini, they will guide your experience on this magical Cyclades island with bold sea colors and architecture, authentic Greek hospitality, twinkling stars, wellness fun, and inspired interactions all around. 
Not convinced? You'll just have to join us to experience the magic yourself! Details below. I recommend Cynthia's retreat to everyone! Not just a vacation, it's really a whole transformation of thinking outside of your lens. This retreat is for anyone who needs to widen their perspective in an encouraging place. This is exactly where you will find it."
–  Karen Wu, USA, Consultant, attended an island retreat in Malaysia
Your All-InclusiveExperience Includes:
* All packages include a shared accommodation for 2 people, with an en-suite attached private bathroom in a one or two bedroom villa.

* €700 single supplement to upgrade a private solo room for 1.
* 35% deposit to lock in your spot and pricing. Outstanding balance due by July 7th, 2024.
* And do let us know if are a frontline worker, healthcare personnel, or a teacher – we'd like to offer you a special discount as a thank you!
* Enquire for details about our +2 Day Extension to continue your wellness journey with us, further explore the island – winery visit with views, beach town, etc., and optional dedicated time we will guide you to translate your fresh inspiration and realizations into tangible takeaways you can apply into your own daily life.

Originally from Chicago and traveling 70 countries in 7 continents, Cynthia Wong is passionate about creating inspired events to help people re-design their own authentic dream life.  This 2024 retreat will be her 20th yoga adventure retreat across 7 countries. Feel free to see past attendee reviews here, many who came back for multiple retreats!
Cynthia's taught across 17 countries for over 3000+ students, of which 200 were outdoors and allowed her to integrate the magic of nature. She has over 500 hours of yoga teacher certifications in Bali in Vinyasa Yoga, Standup Paddleboard Yoga, Pre & Post Natal Vinyasa Yoga, Restorative Yoga, and has further delved into women's yoga, tantra yoga, shamanic astrology, theta healing and more. She also organizes corporate and university wellness sessions, inspired group travel coordination worldwide, and coaches-consults yoga teachers and wellness facilitators to design and fill their own dream retreats. 
Overall, she loves helping people find a better balance of effort and ease in their life. She's driven by a desire to discover what magic happens when we live with wild abandon, give without expectation, and love without fear… in order to Live in Adventure any day!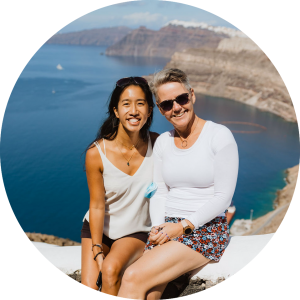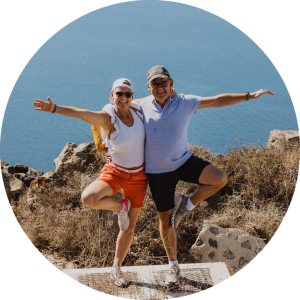 From Malmö, the seaside city in the very south of Sweden across the bridge from Copenhagen, Denmark, Marie Anderson joined the 2019 Santorini retreat, calling it "some of the best travel days in her life"! She will not only be gracing us again with her presence, but also with her lovely wisdom and yin yoga instruction! 
Marie has managed and coached high performers for many years and is currently a Global Head of Services Sales Support at an IT company. She started yoga 15+ years ago when she was seeking a way to balance life as a mum of teenagers, work, and personal care. When the kids left home, she dedicated time to pursue studying yoga. From teaching yoga classes in her home studio, to waking up at 5:30am to practice yoga and take a walk together with her partner Mikael (who will join us again!), to teaching at a stunning dock over the sea in the summers near her home, Marie believes in the transformative power of yoga because of the expansion it has brought to her life. 
Above all, Marie wants to help people to find their good life. She believes you can love yoga and still enjoy your glass of wine, meat, or whichever lifestyle choices fits you best. Yoga helped her focus on the here and now, and to keep any potential problems parked until they occur. It's also helped her understand and accept her body, to learn to listen and adjust to what her body needs. She's excited to help people discover the value that yoga, meditation, and mindful choices can bring to their lives. She is excited to meet the many unique yogis on the retreat and believes "Yoga is for Everyone!" 
What people say from the 2019 & 2021 retreats...
"The retreat was literally an awakening! I was in transition, and it helped me to shift into what felt right, enabling me to pursue something new I didn't think I had the courage to do. I realized you CAN have the life you want, just by redefining what matters most to you in your life. That was the start of it all - I changed my career because of the retreat! Grateful to Cynthia for creating a community and safe space just to relax and flow. It opened up so much abundance and got me to exactly where I am here and now - more aligned than ever!"
"...Theres a lot of little moments for introspection, to connect with other people, as well journaling and reflecting on who you want to be, and where you want to go... You decide your adventure."
"What makes this retreat special is the community vibe created in a really short space of time... And I think the interplay between Marie & Cynthia is so fun, it was like a nice yin and yang effect!"
Don't wait! Lock in your spot & price today. You don't want to miss your chance to secure one of the limited spots for our Santorini yoga retreat adventure!
Look forward to hearing from you and bringing together the best tribe for this year's retreat adventure in stunning Santorini!
Any questions?  Feel free to message us directly, email cynthia@cynthiatravels.com or book a call. We promise we don't bite! 
A few of the most frequent questions answered here!
Get in touch or Book Now!
Let me know if you have any questions or are ready to book! Please complete the form below or email cynthia@cynthiatravels.com.
Please let me know if you are interested, and I'll keep you informed before we sell out! Additional retreats can be viewed here.